For Immediate Release:
Contact: Dr. Jolán Kovács
A Sizzling Success!
KoSA Cuba One-Week Study Program & The "Fiesta Del Tambor"
Montreal, March 20, 2019 – The KoSA Music directors – Aldo Mazza and his musician/business partner & wife- Dr. Jolán Kovács – just returned from sunny and hot Havana, Cuba after celebrating a successful 18th edition of their annual drum & percussion program:  KoSA Cuba.   This week-long drum and percussion camp, in collaboration with the "Fiesta Del Tambor" (The Rhythm & Dance Festival) put a spotlight on the immense talent of Cuban musicians and dancers and provided an insight on this island's rich history and fascinating culture.  This year's trip took place March 3– 10, 2019 in the historical capital of Havana.
KoSA participants came from all over the U.S, Canada, France and Switzerland and raged in age from 17 to 78 years young this year. The program offered intensely fulfilling days of hands-on classes, workshops, concerts, lectures, and the exciting nightly performances of the Fiesta Del Tambor Festival. Conga, bongo, timbales, bata, drumset and other instruments were studied as participants were immersed in Cuban rhythms, and seminars on Cuban music (given by the renown ethnomusicologist Dr. Olavo Alin . All instruments were provided, and participants studied, and played along Cuba's top international artists such as Amadito Valdes (Buena Vista Social Club), Oliver Valdes (Cuba studios), El Peje (Chucho Valdes), El Panga (Havana top studio musician), Adel Gonzales (Afro Cuban Allstars), Jean Roberto Cristobal & Julio Lopez ( Klimax) and Miguelon Rodriguez .
The capital city of Havana where the workshop took place, is scenic, historical and renowned for the richness of its Cuban culture, folklore and music. An incredible variety and depth of knowledge has been passed through the generations, maintaining centuries old African-based traditions. Havana is also the cultural Mecca of the Caribbean and a hotbed of new and contemporary creative music. All of this—and more—was seen, felt and heard during the week.  An added bonus for the KoSA Cuba participants was the VIP access to the Fiesta del Tambor, a growing national percussion competition with associated clinics and concerts spearheaded by Giraldo Piloto (Klimax) in honor of his late uncle Guillermo Barreto.
Special international guest artists joining Aldo Mazza and the Fiesta del Tambor Festival this year were Mark Guiliana (David Bowie) and his award-winning jazz trio – who wowed the Cuban audience with their experimental beat music.  A special treat was hearing the talented American musician and film composer, Joachim Horsley (Beethoven in Havana) who was actually a former KoSA Cuba participant several years ago and now a part of the illustrious line-up of the Fiesta Del Tambor festival.  Joachim performed many tracks from his latest masterpiece:  "Via Havana" CD and he was accompanied by the Havana Symphony Orchestra as well as inviting Aldo Mazza on drums in a special collaboration.    Another highlight of the week was hearing the Canadian percussion ensemble –Répercussion (featuring:  Luc Langlois, Robert Lépine, Aldo Mazza and Chantal Simard) who performed a specially commissioned Canadian work with the Havana Symphony – this marked the first time the group performed in Cuba after a long career of performing in nearly every corner of the planet!
The exciting nightly concerts of this year's Fiesta del Tambor Festival included a SABIAN night which featured many of Cuba's top SABIAN and Gon Bops endorsees. Other memorable concerts featured well- known artists from Spain (the featured country of this year's festival) – such as Ketama, a Flamenco-fusion musical group which had the audience on their feet wanting more.  Finally, besides the nightly concerts, the Fiesta del Tambor also runs a national drum and percussion competition every year which is open to Cubans and international participants alike. The lucky winners of the competition receive much needed professional instruments such as a drum set, timbales, bongos, congas, and various drum accessories.  KoSA Music is proud to be one of the official sponsors of this event and has been bringing these instruments as prizes for the past 18 years to the Cuban people.
For more information on KoSA Cuba, please visit www.kosamusic.com or call 1-800-541-8401.
www.facebook.com/kosacubaworkshop         www.facebook.com/kosacubatravel
KoSA Cuba 2019 was graciously sponsored by Sabian, Gon Bops, Ludwig ,Evans ,Quebec International Affairs and the Canada Embassy.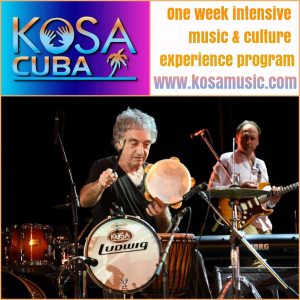 Participate in a thrilling, one week study program including activities and concerts of the "Havana Rhythm and Dance Festival" – individuals and performing groups are welcome – this event is open to all. Experience intensive hands-on daily classes with major Cuban artists, concerts, lectures, historical and cultural visits. All instruments are supplied on site.
The city of Havana, Cuba's National Capital, is scenic, historical and renowned for the richness of its Afro-Cuban folklore and music.
An incredible variety and depth of knowledge has been passed from generation to generation, maintaining centuries old African-based traditions through groups and families throughout the region. It is also the cultural mecca of the Caribbean and a hotbead of new creative music. University Credit is available and travel for U.S. Citizens is also available. Please inquire via email ([email protected]) or by calling us at 514-482-5554 or 1-800-541-8401
Join KoSA founder, and world drummer/percussionist Aldo Mazza for this inspirational, educational and sensational visit to one of the world's epic centers of rhythm. Register online for this life changing experience: