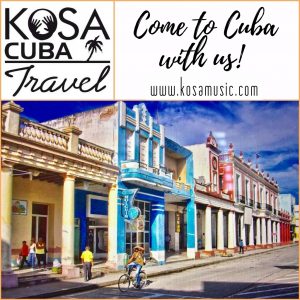 Cuba music performance, educational and cultural trips! Planning a trip with your group to Cuba? KoSA has over 22 years of experience in organizing events, festivals and major international workshops. Since 2001, we have been organizing festivals and cultural trips to Cuba in collaboration with Cuba cultural entities, Ministry of Culture and officials. We have been working very closely with many of Cuba's best known and respected international artists and institutions.
These trips are customized according to your type of group, ages, interests and mission be it musical, educational or cultural. KoSA has built a large support infrastructure in Cuba over the years. We have brought many musical instruments and other supplies, which are used in our projects giving us total control of our group activities and itineraries.
Each group is accompanied by our professional team every step of the way. It is a "turn-key" voyage full of unforgettable moments. Your group will have a full time private tour bus as well as on-hand guides and coordinators. Music groups are scheduled to rehearse and have musical coaching with some of Cuba's finest artists in preparation for concert performance opportunities. Included will be visits to schools, festivals, museums, tourist and historic site tours and close cultural exchanges with peer groups in Cuba.
Cuba is a mecca for music not only in traditional and popular but in jazz, classical and choral. Their educational system is one of the best in the world, as education is not only free but a top priority. The level of music and culture is very impressive and your group will have the experience of a lifetime.
These trips are available any time during the year with the exception of August. All trips include meals, hotel, local transportation, visits, musical coaching and lessons as well as most activities.