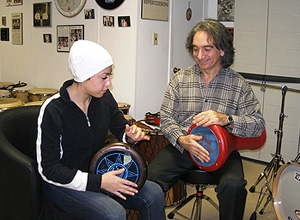 ALDO MAZZA
Drumset, hand percussion, Arabic frame drumming, southern Italian hand drumming, classical percussion
Founder and Artistic Director of the KoSA International Percussion Workshops and Festivals, and member of the internationally acclaimed percussion ensemble Répercussion, Aldo is a world recognized drummer and percussionist. He has performed with such artists as James Brown and Chris DeBurgh and has recorded with Celine Dion, Jon Bon Jovi and Aldo Nova.
YVES CYPHIOT
African drumming
Having studied with the masters in Africa, Yves is a well respected African drumming specialist. He is a busy performer as well as teacher in the Montreal area.
JOHN DIRAIMO
Drumset
John has played with several pop, jazz, fusion and Latin formations in the Montreal area. He has received a diploma in Drums and Percussion from Humber College of Applied Arts and Concordia University. John has been an instructor at KoSA Academy for 3 years and has regularly participated in the annual KoSA International Percussion Workshops and Festival.
EUGENIO ROBERTO "KIKO" OSORIO
Cuban Percussion
Kiko Osorio is at the heart of Cuban music in Montreal. Born in Cuba and educated at the National Arts School in Havana and the Provincial Arts School in Holguin, Kiko has contributed to numerous recordings as a multi-percussionist and vocalist. His professional experience includes tours and performances at the Festival International de Jazz de Montreal, Casino de Montreal, Francofolies and many others. He is also a recognized as a teacher who shares his passion for music as a clinician and instructor.
Yoel Diaz
Cuban, Latin and Jazz
Yoel Diaz, renowned pianist, composer and arranger, was born in Holguín, Cuba. After studying percussion in Camaguey at José White College, Diaz taught himself piano and composition, and in 1996, went on to become the musical director for the Alfredo Morales (Chiquitin, a legend of traditional Cuban music) orchestra. As soon as he set foot in Montreal, Canada in 1997, he began to attract the attention of various jazz and Latin musicians, whose praise would eventually lead to his opening for several headliners such as Arturo Sandoval, Tito Puente, Eddy Palmieri, and Ray Barreto.