KoSA Academy Montreal
Band Classes
 Cuban band with Yoel Diaz : Sundays 2 – 3 pm
 Rock band with Kevin Moquin : Saturdays 4 – 5 pm
 Jazz combo : Sundays 5-6 pm
Each of these are 10 weeks, meeting weekly on Sunday afternoons
for 1 hour each. There will be specific songs to learn each week and
a performance at KoSA at the end of each term.
Cost is $ 300
Group Classes
Cuban Rhythms with Aldo Mazza: Wednesday nights, 7.30 – 8.30 pm
African drumming with Aldo Mazza & Yves Cypihot: Monday & Tuesday, 7.30 – 8.30pm
Cuban Rumba Rhythms with Freddy Martinez: Thursday night, 7.30 – 8.30pm
These are 12 sessions.
Cost is $ 300
What is KoSA Academy?
KoSA Academy Faculty is comprised of active professional musicians and educators dedicated to teaching our students in a respectful, meaningful and effective method for all levels and for all ages.
Vision
KoSA Music was established in 1996 by Aldo Mazza and his wife Dr. Jolan Kovacs who are both recognized music educators and performers in their respective fields. The founders' vision for KoSA has led them to dedicate great resources and energy to offer the highest standards of music education. Over the years, the KoSA faculty and its founders have developed instructional materials and effective methodology to ensure that each student learns and attains their maximum potential, has fun learning while building personal confidence.
Mission

It is our aim to strategically teach each individual (adult or child alike) the technical aspects of playing an instrument as well as the musical approaches to making music. Learning music and learning drumming especially has been scientifically proven in improving personal coordination of all four limbs. The KoSA Academy faculty helps in students' study habits, social behaviour, increases their self esteem and augments the abilities to work as a team. We believe that studying a musical instrument adds to the development of a good positive spirit and attitude which translates well to other aspects of life as it fuels good interpersonal skills and promotes good leadership.
Quelle est l'Académie KoSA?
La KoSA Academy est composée de musiciens et d'éducateurs professionnels actifs qui se consacrent à enseigner à nos étudiants une méthode respectueuse, significative et efficace pour tous les niveaux et pour tous les âges.
Vision
KoSA Music a été créée en 1996 par Aldo Mazza et son épouse, Dr Jolan Kovacs, qui sont tous deux des éducateurs et des interprètes reconnus dans le domaine de la musique. La vision des fondateurs pour KoSA les a conduits à consacrer beaucoup de ressources et d'énergie à offrir les normes les plus élevées en matière d'éducation musicale. Au fil des ans, la faculté de KoSA et ses fondateurs ont mis au point du matériel pédagogique et une méthodologie efficace pour que chaque étudiant puisse apprendre et atteindre son potentiel maximum, apprend tout en s'amusant tout en renforçant sa confiance en soi.
Mission
Notre objectif est d'enseigner de manière stratégique à chaque individu (adulte ou enfant) les aspects techniques du jeu d'un instrument ainsi que les approches musicales pour la création musicale. L'apprentissage de la musique et l'apprentissage de la batterie en particulier ont été scientifiquement prouvés pour améliorer la coordination personnelle des quatre membres. La faculté de la KoSA Academy aide les étudiants à adopter des habitudes d'étude et un comportement social, à renforcer leur estime de soi et à améliorer leur aptitude à travailler en équipe. Nous pensons qu'étudier un instrument de musique contribue au développement d'un bon esprit et d'une attitude positive qui se traduisent bien dans d'autres aspects de la vie, dans la mesure où ils développent de bonnes compétences interpersonnelles et favorisent un bon leadership.
Students! Please click on each to download and print out these important documents:
Walfredo Reyes Jr and band at KoSA Academy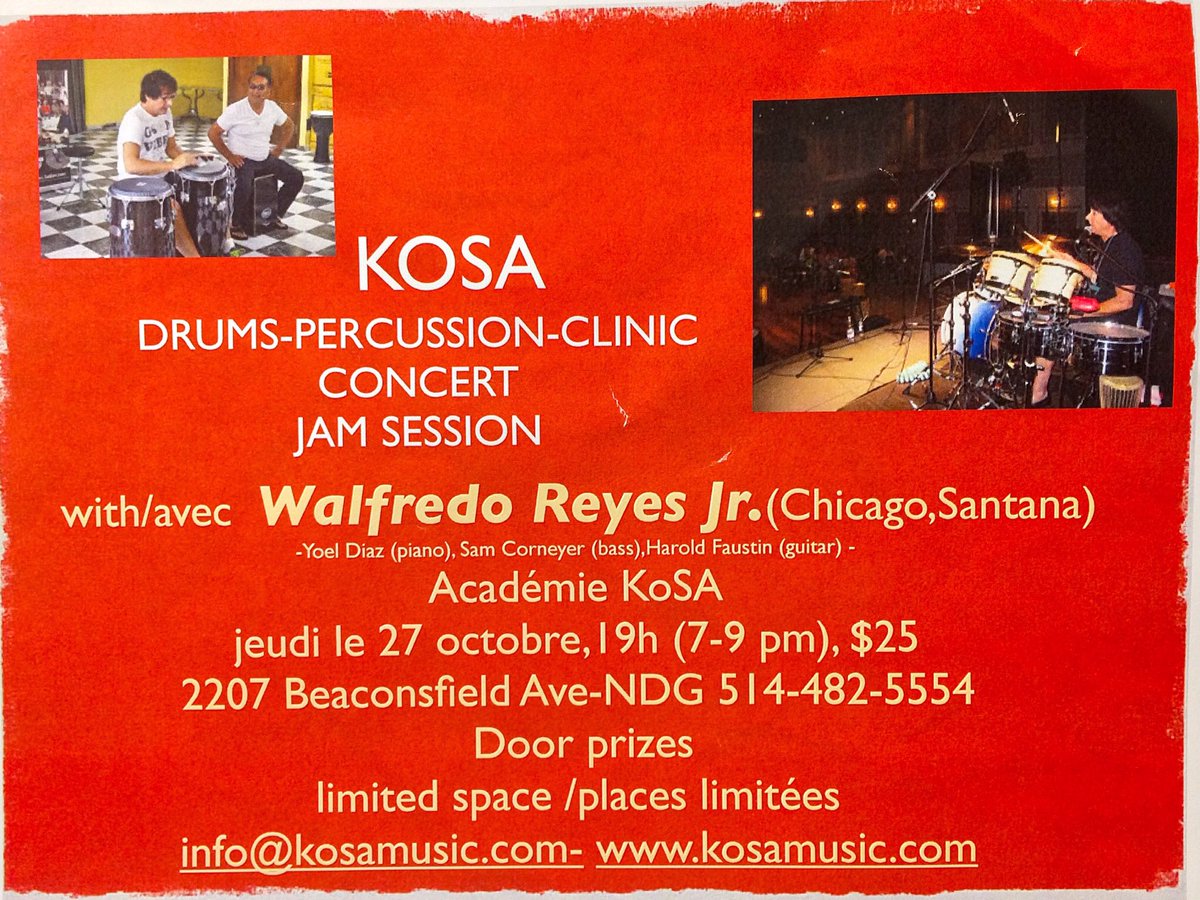 About Walfredo Reyes Jr.
Few drummers playing today can successfully combine the rich history of Latin, Afro-Cuban and World Percussion with the drum set. For Walfredo Reyes, Jr., fusing the two disciplines has been his driving passion. In fact, by blazing this path, Reyes has challenged the technical levels of our instrument.
Because of his versatility, Walfredo is one of the most in demand musicians in the world today. He currently lives in the Los Angeles area where he continues to expand his talents to recording, producing, composing, education, live performance, and touring. Walfredo is currently touring with the world renown Classic Rock band, Chicago, playing percussion.